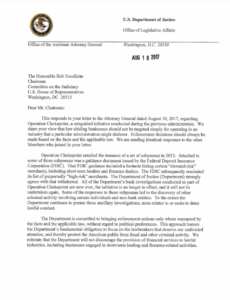 During his address to the NRA, President Trump said "The 8 year assault on your Second Amendment freedoms has come to a crashing end"
We're already starting to see the results!
"Operation Chokepoint," the banking initiative that targeted against FFLs, is over!
This is great news for the firearms industry.
Under Operation Chokepoint, banks considered FFLs/Gun Dealers to be "high-risk" and therefore wouldn't do business with them.  This was an Obama-era program that many viewed as a method to hurt the firearms industry.
This made it VERY difficult for FFLs to get business financing and banking services.  Banks would deny services to gun dealers and, in some cases, contact their FFL customers and cancel their services!
Thanks to President Trump's administration, FFLs/Gun Dealers have been removed from the list of "elevated-risk" merchants and the Department of Justice has now officially ended the operation.
Unfortunately, it is still difficult to get credit card processing for FFLs. There's only a couple options to accept credit cards for FFLs – check out our article on Gun-Freindly Credit Card Processing for FFLs  where we explain your options, the pros/cons of each solution, and give our recommendation.
It looks like its getting better and better to be an FFL every day! If you've been thinking about it, come take our course and start saving and making money on guns!