Make Money With Guns
In just 2 hours, learn everything you need to know to get your FFL.
What if I told you that you could save hundreds of dollars when buying your next gun, and even make money selling guns, all from the comfort of your home?
It's true!
By getting your Federal Firearms License (FFL) you not only get access to the manufacturers cost of firearms (thus skipping the middleman), you can also turn around and sell those guns to your friends and family, colleagues, or any interested buyer.
You can become the go-to guy in your circle of friends in no time.  And yes, home-based FFLs are allowed!
In just a couple hours, this course will teach you how to do exactly that!
Once you have your FFL, you'll get access to special distributor websites that the public can't see.  There, you'll see the dealer's cost, which is WAY below what you'll find elsewhere.
In most cases you'll save and make hundreds of dollars, in just one sale.  If you end up buying and selling just one gun in your lifetime, you'll have already paid back the cost of this course.
That's it.
So, stop paying the middleman and start saving with every gun purchase you make.
Glock 19 Gen 5 MSRP: $647
Glock 19 Gen 5 price for YOU with your FFL: $475
= $172 in savings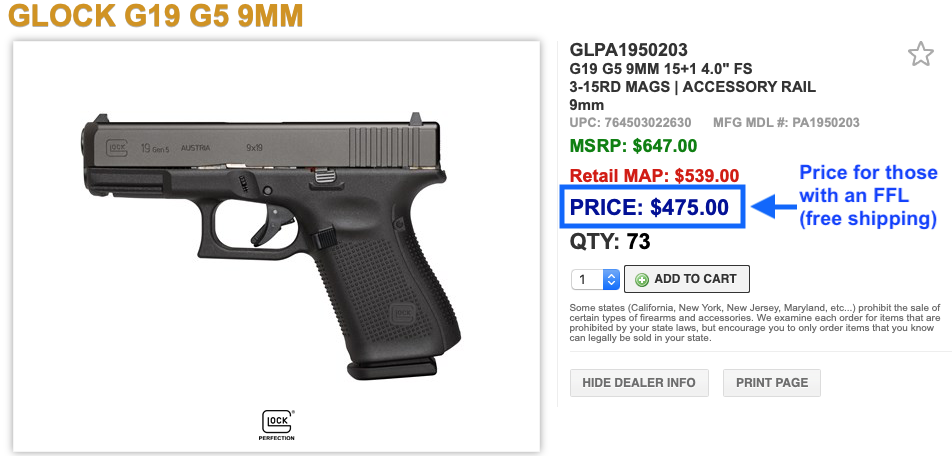 Ruger Precision Rifle MSRP: $1,599
Ruger Precision Rifle price for YOU with your FFL: $1,101
= $498 in savings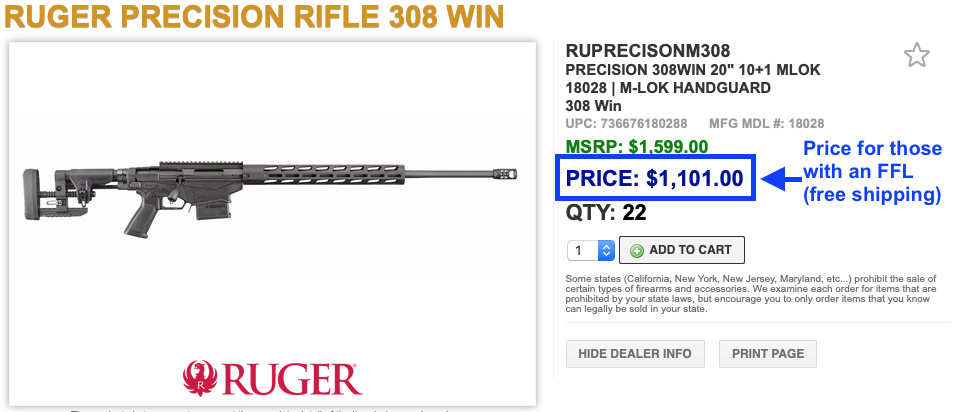 Imagine this…
Your friend wants a Ruger Precision Rifle.  If they go to the store, they'll probably pay around $1,599, almost $500 over what the dealer paid.
Even if your friend found the rifle online and had it shipped to the dealer, he's still going to have to pay the dealer a transfer fee – upwards of $50!
With your FFL, you can make that extra $498 on the sale, or even $50 just to transfer the gun.  Or, you can hook up your friend and charges them just $1, saving them money.
Make extra money or, make your friends really happy.  It's up to you!
Gain Access to Unique Firearms
The average American citizen can not possess a full-auto machine gun unless it was made before 1986, and it takes around 10 months to get other NFA items!
However as an FFL, you can also become a SOT which will allow you to make, buy and/or sell, full-auto machine guns and get other NFA firearms in weeks (silencers, short barreled rifles, etc.)
That means that your FFL will get you NFA firearms faster and allow you to make, buy, and sell firearms that you legally can't even possess without an FFL!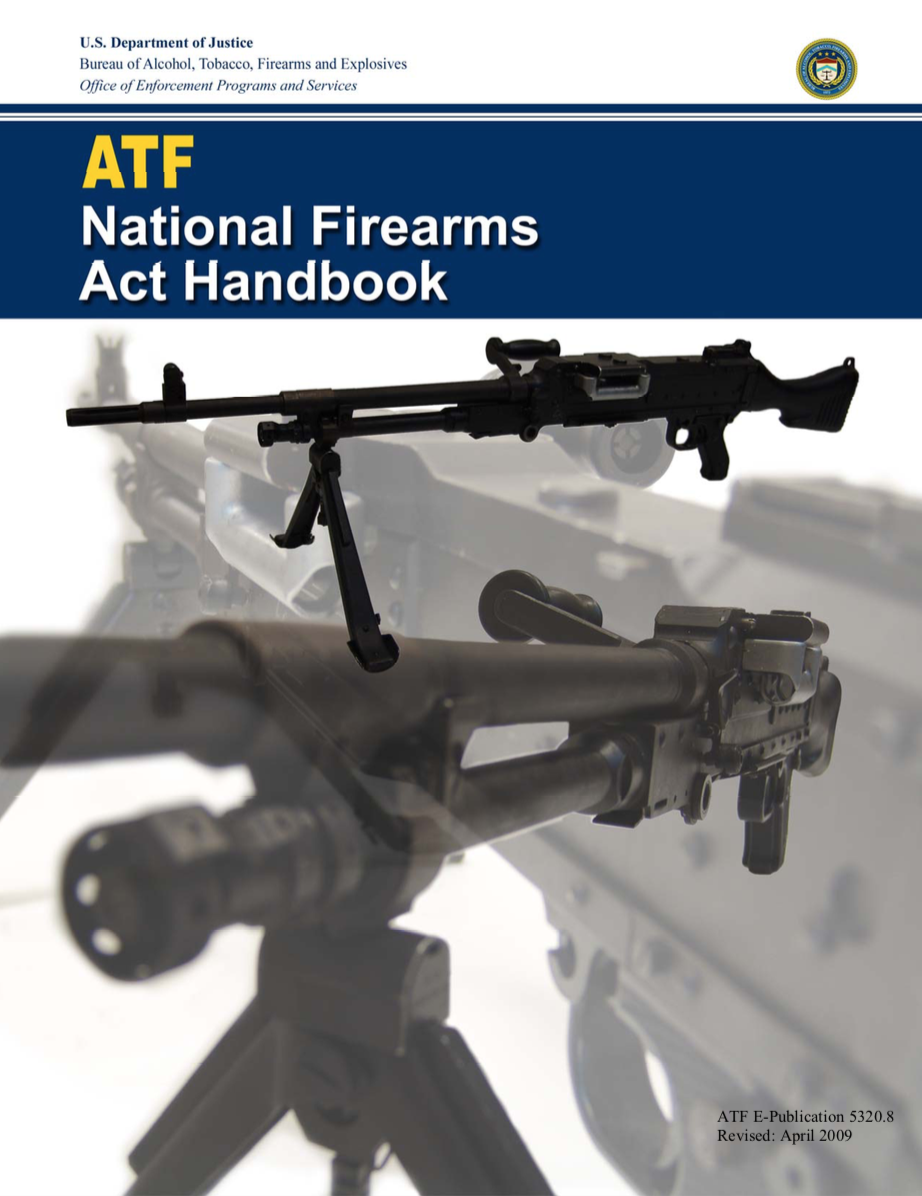 It's Easier Than Ever to Get Your FFL
Thanks to this course, you can learn everything you need to know and get your FFL, the right way, the first time around.  Included are things like:
Hours of instruction including videos in many chapters
Unlimited online access to course materials
Guidance and accurate information from Ryan Cleckner, a firearms attorney (this is not legal advice), gun expert and professional educator, who represents FFLs across the country. 
Community Support
Updates on the latest FFL news and regulations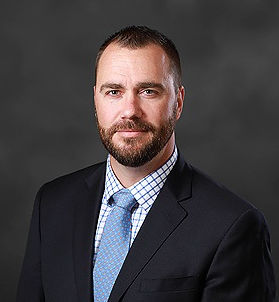 "As a firearms industry executive, and a firearms attorney who has represented FFLs all across the country including home-based FFLs to the largest manufacturers and distributors, I know the rules and how to be compliant.  I also know how difficult it can be to find clear guidance on what to do . . . which is why I created RocketFFL."
Ryan Cleckner
Owner/Firearms Attorney
This course is the easiest way to get the information you require in an easy to grasp video format. Ryan makes the complex legal jargon of the ATF comprehensible . . . I could not be more pleased with the product or results.
Very impressed by the quality of the material in the course. It was easy to understand, and was fun to learn. I had lots of questions at first, and the course answered all of them. I went from feeling nervous about applying for my FFL to feeling confident I know the do's and don'ts, thanks to RocketFFL.
I was intimidated at first, but the material in the course made everything understandable.
My [ATF Inspector] said that he could tell I had done my homework. Excellent service and I highly recommend.
Ready to figure out where to start?
Sure, you can absolutely get an FFL without guidance from me.  There are plenty of self-proclaimed experts online with all sorts of free "advice" for you.
However, there's a lot of information you need to know to set up your FFL the right way and avoid trouble with the ATF later.
I've had plenty of clients hire me as their lawyer (which costs significantly more than this guide), simply because they didn't set up their FFL correctly.
You're smarter than that.
SIGN UP FOR OUR COURSE TODAY

Get Your FFL
Make and Sell Guns
30-Day Money Back Guarantee

Buy, Sell, and Make Standard (Rifle, Shotgun, Handgun, etc.) Firearms

Be a Manufacturer, Gunsmith, or Dealer
FFL and SOT Bundle
Standard and NFA Firearms
Save $30 with bundle price

30-Day Money Back Guarantee

Benefits of FFL and SOT together

Buy, Sell, and Make Standard and NFA Firearms

Be a Manufacturer, Gunsmith, or Dealer
Become an SOT
Work with NFA Firearms
30-Day Money Back Guarantee

Buy, Sell, and Make NFA (Silencers, Machine Guns, etc.) Firearms

Be an NFA Manufacturer, Gunsmith, or Dealer
A True Gun-Guy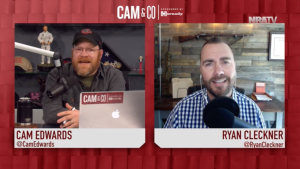 Ryan Cleckner served as a special operations sniper team leader with the U.S. Army's elite 1st Ranger Bn. (1/75) on multiple combat deployments.  Ryan is a graduate of the premier Special Operations Target Interdiction Course (SOTIC), among other military training courses, and has taught snipers and police sharpshooters from around the world.  He is the best-selling author of the Long Range Shooting Handbook, he writes firearm related articles for RECOIL Magazine, GunDigest and GunUniversity.com, he hosts the Going Ballistic and Trigger Words podcasts and has a multitude of instructional YouTube videos on long range shooting.
A Firearms Industry Expert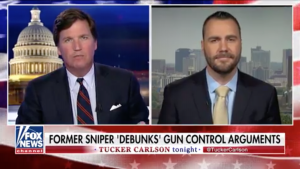 Ryan is a firearms attorney and a firearm industry executive.  He managed federal government relations for the National Shooting Sports Foundation, he was a Vice President of Remington Outdoor Company (Remington Arms and Ammunition, AAC, DPMS, Bushmaster, Dakota, Marlin, and more) overseeing all firearm compliance matters, and he was a voting board member of the Sporting Arms and Ammunition Manufacturer's Institute (SAAMI).  In addition to running RocketFFL, RocketCCW and Mayday Safety, he is also a firearms attorney representing FFLs all across the country and a recognized firearm industry expert appearing on FOX News, NRA TV and the History Channel.
Need help figuring out where to start?
We're here to help.
Get Your FFL Course Curriculum
1 - Introduction
1.1 – How to Use This Course
1.2 – Background
1.3 – FFL Types
Chapter 1 NOTES
2 - Individual Requirements
2.1 – Responsible Persons
2.2 – Prohibited Persons
Chapter 2 NOTES
3 - Business/Entity Requirements
3.1 – Business Intent
3.2 – Business Form
3.3 – Location
3.4 – Hours of Operation
3.5 – State Specific Requirements
Chapter 3 NOTES
4 - Application
4.1 – Application Process
4.2 – Complete FFL Application
4.3 – Photographs
4.4 – Fingerprint Cards
4.5 – Application Checklist
4.6 – Application Submission
5 - Basic Firearm Compliance
5.1 – Introduction
5.2 – ATF Compliance
5.3 – U.S. Dept. of State/Dept. of Commerce Compliance
5.4 – Record Keeping
Record-Keeping Quiz
5.5 – State-Level Compliance
Chapter 5 NOTES
6 - Initial ATF Inspection
6.1 – Preparing for ATF Visit
6.2 – During the Inspection
7 - Receipt of FFL
7.1 – Day One with Your New FFL
7.2 – Resources