Welcome to the mother-lode of ATF-related data on firearms in commerce!
Each year the ATF publishes a report that includes data on the number of firearms in commerce (made, exported, and imported) and statistics on NFA firearms (forms, revenue, and distribution) and FFLs (applications and inspections.
In the ATF's Firearms Commerce in the United States Annual Statistics Update 2018, they share information on:
how many firearms were made in the United States,
how many firearms were exported,
how many firearms were imported,
the total number of import applications,
a break-down of country of origin for imported firearms,
National Firearms Act (NFA) taxes paid,
how many of each NFA form was processed,
NFA firearms registered by state,
number of Special Occupational Taxpayers (SOTs) by state,
how many of each Federal Firearm License type are active,
a break-down of the number of FFLs by state,
a summary of FFL applications by year, and
how many ATF compliance inspections occurred.
I told you that it was the mother-lode of data!
In this article, we'll stick to the firearms in commerce information to keep the information manageable.  If you're interested in the rest of the ATF data, check out our articles on NFA Firearms Statistics and FFL Applications and Inspections Statistics.
Number of Firearms Manufactured in the United States
The ATF purposefully delays the data they publish on firearms manufactured in the United States. The ATF only releases information that is two years old in an effort to keep manufacturers from having a competitive advantage over one another.  Although the most recent data published is from 2016, it is still useful to see trends in our industry.
As you can see in the graph below, overall firearm production in 2016 is higher than it's ever been in recorded history.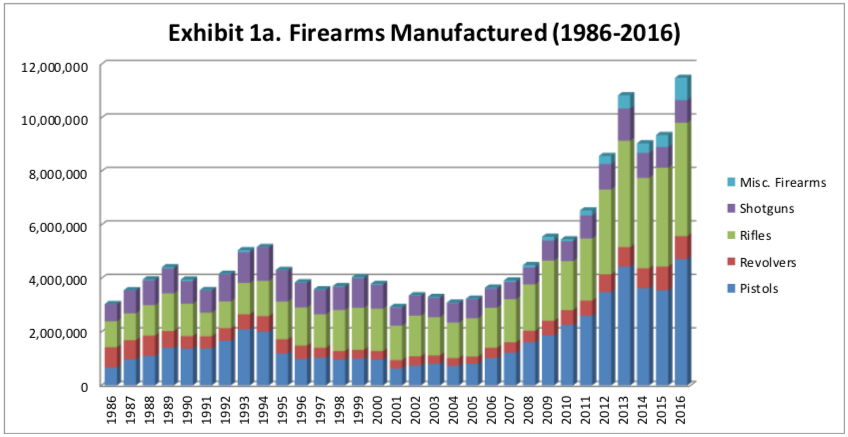 The ATF's report includes data back to 1986 but we've included six years worth of firearm manufacturing numbers for you below.
In 2016, there were 11,497,441 firearms made in the United States.  Of that total, 4,720,075 were pistols, 856,291 were revolvers, 4,239,335 were rifles, 848,617 were shotguns, and 833,123 were "misc." firearms.
Miscellaneous firearms are any firearms not specifically categorized in any of the firearms categories defined on the ATF Form 5300.11 Annual Firearms Manufacturing and Exportation Report. (Examples of miscellaneous firearms would include pistol grip firearms, starter guns, and firearm frames and receivers. Most of the increase of this section is likely due to the new category of firearms with "shockwave" pistol grips that are neither rifles, shotguns, nor handguns.
Number of Firearms Manufactured per Year

| Year | Pistols | Revolvers | Rifles | Shotguns | Misc. | TOTAL |
| --- | --- | --- | --- | --- | --- | --- |
| 2011 | 2,598,113 | 572,857 | 2,318,088 | 862,401 | 190,407 | 6,541,866 |
| 2012 |  3,487,883 | 667,357 | 3,168,206 | 949,010 | 306,154 | 8,578,610 |
| 2013 | 4,441,726 | 725,282 | 3,979,570 | 1,203,072 | 495,142 | 10,844,792 |
| 2014 | 3,633,454 | 744,047 | 3,379,549 | 935,411 | 358,165 | 9,050,626 |
| 2015 | 3,557,199 | 885,259 | 3,691,799 | 777,237 | 447,131 | 9,358,661 |
| 2016 | 4,720,075 | 856,291 | 4,239,335 | 848,617 | 833,123 | 11,497,441 |
Exports of Firearms by Manufacturers
The information from the ATF on the exports of firearms does not give complete picture of the number of firearms exported from the United States.
This is an incomplete picture for two reasons:
1) this information comes from ATF Form 5300.11 Annual Firearms Manufacturing and Exportation Report (AFMER) which is only submitted to the ATF by manufacturer FFLs.
2) the ATF is not in charge of firearms exports.  As you'll learn in the Basic Firearm Compliance section of our Get Your FFL course, the U.S. State Department and the U.S. Department of Commerce oversee firearms exports and they will have the accurate data.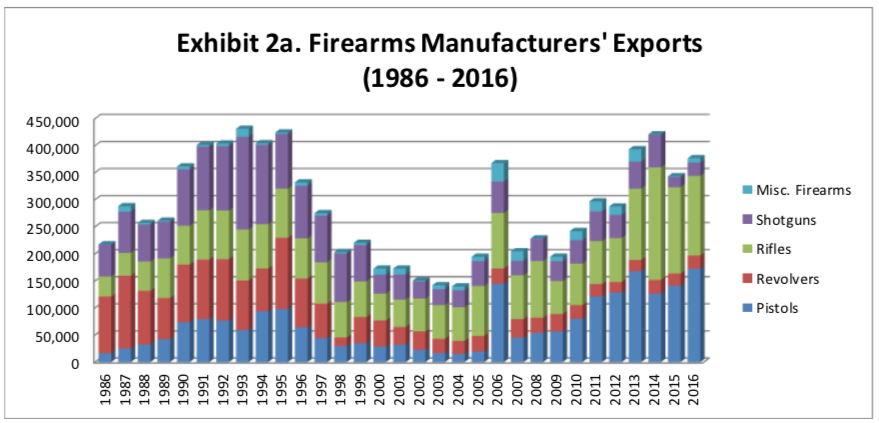 Firearms Imported into the United States
Unlike with exports, the ATF does oversee all firearms imports – therefore, this information will give a complete picture of how many guns we're bringing into the country.
Of course, I doubt that these figures account for the number of firearms the Obama administration smuggled out of the country to drug-dealers in Mexico and then allowed to come back into our country illegally resulting in the deaths of Americans during Operation Fast and Furious.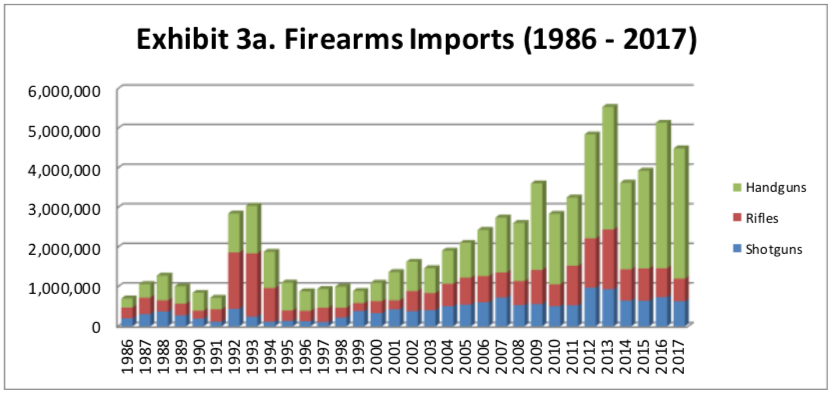 It sure looks like we're bringing in a lot of firearms!  That's great news for our industry as a whole, but bad news for our American manufacturers.  Note the big influx of imported firearms starting around 2009 when some of our major American firearms quality and design started to slip.
In 2016, we imported 4,492,256 firearms!  That number is HUGE!
In 2017 we imported almost half of the number of firearms made in the U.S, in 2017
Click To Tweet
Interestingly (well, to me anyway), the number of import applications has decreased.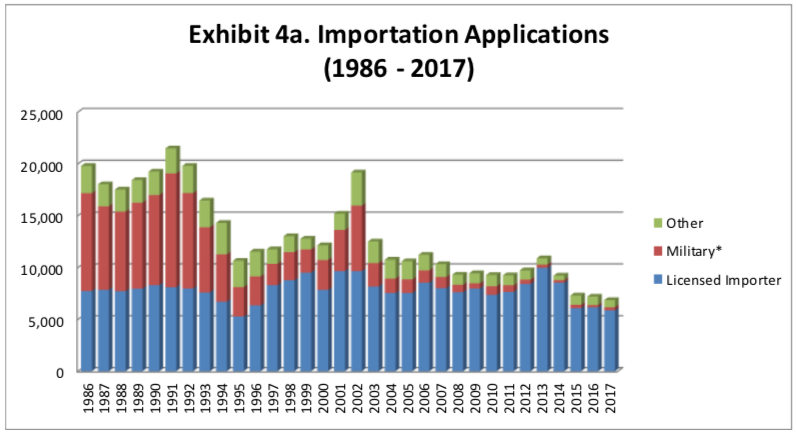 Source Countries for Firearms Imported into the United States
The vast majority of firearms, 1,202,149 in 2017, are imported from Austria.  I wonder why…cough…Glock…cough.  In second place with nearly half as many firearms imported is Brazil with 760,017 (mostly Taurus), Germany with 394,449 is third, and Croatia with 326,653 (this is where Springfield XD handguns come from) dropped from 3rd place the prior year to fifth place this year.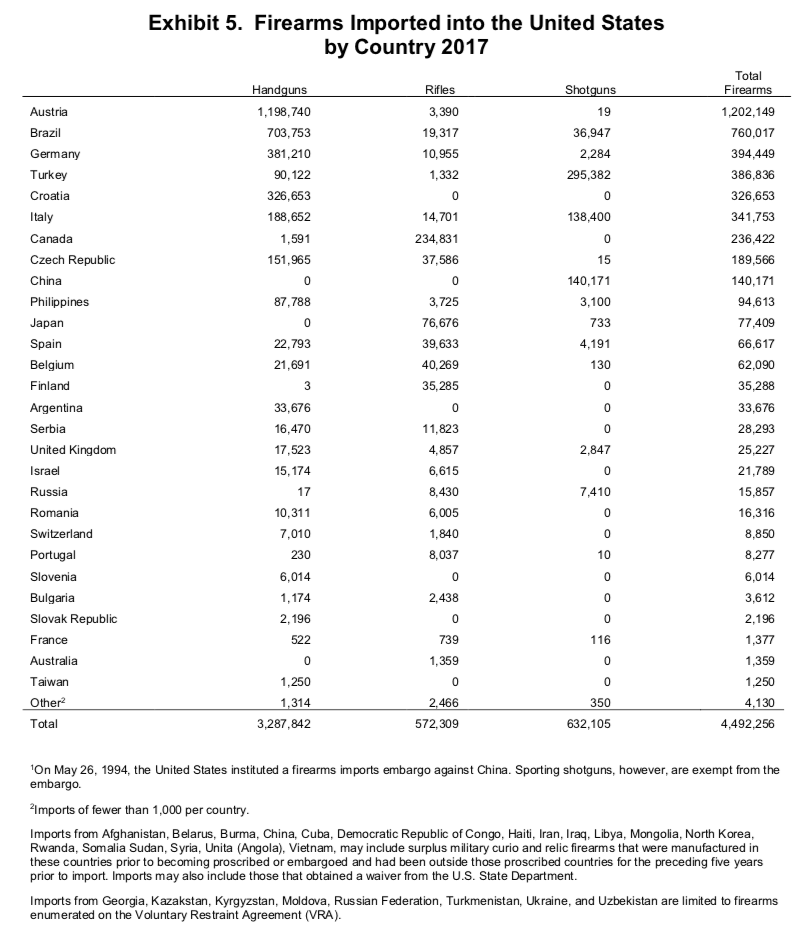 Imported Firearms by Type – 2017

| Handguns | Rifles | Shotguns | TOTAL |
| --- | --- | --- | --- |
| 3,287,842 | 572,309 | 632,105 | 4,492,256 |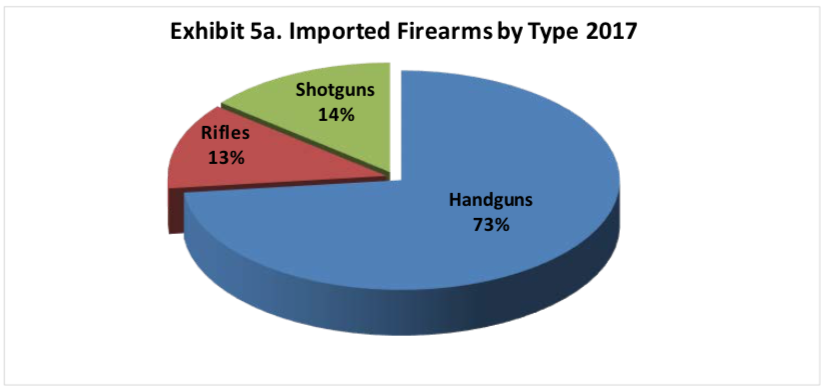 If these stats are interesting to you and you're not yet a part of the firearms industry, you might want to consider it!
You'll stop having to worry about spending so much money on guns and you'll start making money with them!
I look forward to having you in our industry,